L is for Lullaby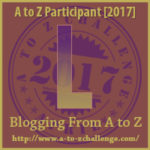 My first thought for the letter L was not lullaby. It was love. But oh, such a big assignment? How could I ever do it justice? Love has birthed poetry and prose. Most of the most beautiful words ever written were inspired by love. I can't begin to measure up to Yeats, Browning, Austen, Bronte, or even McCartney or Sparks. So, I'm going to focus on a tiny little element of love – the lullaby. Soft chimes of a music box, the gentle lilt from a mama's heart, this is what lullabies are made of.
Who among us cannot imagine a soothing, sweet, and calming lullaby?  Even the word lullaby, as it rolls off the tongue is lovely and sweet. It's the perfect example of the literary device, onomatopoeia. What's that? Onomatopoeia?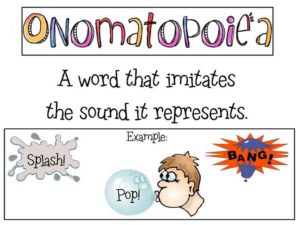 From Merriam Webster.com, the official definition is "the naming of a thing or action by a vocal imitation of the sound associated with it." Words like hiss, achoo, belch, crack, hiss, and murmur are all examples of onomatopoeia. Ok, enough of the literary lesson!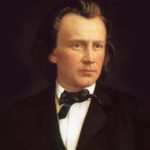 When most people think of a lullaby the first refrain that comes to mind is the classic Brahms Lullaby, commonly referred to as The Cradle Song. I don't think I ever knew the words beyond the first two lines, after that it became just hums. Interestingly, Johannes Brahms did not write this classic melody as a lullaby. It was actually a secret love song for a past young flame. One of the links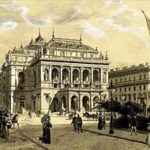 below will take you to the story. It was published as Op .49, No. 4, in 1868 and was first performed publicly in December of 1869 in Vienna.
There are many other classic lullabies. Hush Little Baby, Rock a Bye Baby, Toora Loora Loora, and All Through the Night are just a few. Lullabies can be made from just about any song. I often sang The Gaithers' There's Just Something About That Name to my boys when they were babies, along with many other songs with the name of Jesus in them.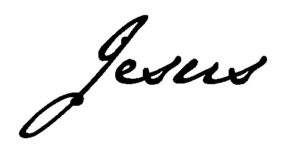 I figured what more calming, peaceful word could there be? And that line in Because He Lives, "How sweet to hold a newborn baby and feel the pride and joy it gives." Oh, my heart! Whether your own baby or a grandbaby or other special baby, there is nothing like singing to a newborn cradled in your arms. And best of all, they don't care if you can't carry a tune in a bucket. Some of the best lullabies are those that are serendipitous – they are made up on the spot. I made one up one for Mabrie Lane, one of my granddaughters. It went to the tune of Penny Lane:
Mabrie Lane is in my heart and in my arms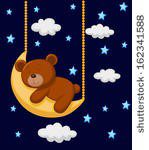 With the sweetest little baby girl charms…
The words after the first two lines were just a jumble of phrases, but those first two lines were pleasant repeats.
Just in case like me, you don't remember, here is the traditional English version of Brahms' lullaby lyrics.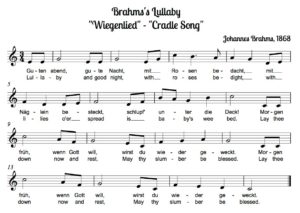 Lullaby and goodnight,
With roses bedight,
With lilies o'er spread
Is baby's wee bed.
Lay thee down now and rest,
May thy slumber be blessed.
Lullaby and goodnight,
Thy mother's delight,
Bright angels beside
My darling abide.
They will guard thee at rest,
Thou shalt wake on my breast.
---
Brahms Lullaby Recordings
Secret love song https://www.youtube.com/watch?v=ooIbZHs8TE4
Original composition https://www.youtube.com/watch?v=t894eGoymio
Jewel https://www.youtube.com/watch?v=Y0eASoAXTx0
Yo Yo Ma and Kathryn Stott https://www.youtube.com/watch?v=T6nb35I9w-8
Kenny G https://www.youtube.com/watch?v=WIXuRwCTs44
Celine Dion https://www.youtube.com/watch?v=IBq9bV9rTHc
Celtic Woman https://www.youtube.com/watch?v=g8hItcjQZVM
Dean Martin https://www.youtube.com/watch?v=CpoYDRqHOog
Linda Ronstadt https://www.youtube.com/watch?v=prhUMWfYo9w
Frank Sinatra https://www.youtube.com/watch?v=0ltmYzhZCpY
---
Just for fun, 'cause I'm from Dixie
Judy Garland Rock-a-Bye Your Baby with a Dixie Melody