M is for Mercy
This post is short but sweet. What could be sweeter than mercy? I was fortunate to hear Anne Lamott speak recently about her newest book, Hallelujah Anyway: Rediscovering Mercy. Two words: READ IT. You will feel mercy flow over you, and in turn lay it upon others.
We have all been hurt in this life and we have all hurt others. None of us is deserving of mercy, yet we can bring healing by bestowing mercy as God does for us.  How appropriate for this Easter weekend! Mercy, indeed, was great at Calvary.
Enjoy Georgia's own Casting Crowns, whose home church is just up the road from me, singing  At Calvary .  Words by William R. Newell (1895). Music by Daniel B. Towner (1895)
Happy Easter to one and all from GeorgiaJanet.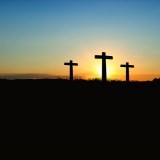 At Calvary
1.       Years I spent in vanity and pride,
Caring not my Lord was crucified,
Knowing not it was for me He died
On Calvary.

Refrain:
Mercy there was great, and grace was free;
Pardon there was multiplied to me;
There my burdened soul found liberty
At Calvary.

2.       By God's Word at last my sin I learned;
Then I trembled at the law I'd spurned,
Till my guilty soul imploring turned
To Calvary.

3.       Now I've giv'n to Jesus everything,
Now I gladly own Him as my King,
Now my raptured soul can only sing
Of Calvary!

4.       Oh, the love that drew salvation's plan!
Oh, the grace that brought it down to man!
Oh, the mighty gulf that God did span
At Calvary!