Y is for Yard Art
I love yard art! However, I must give caution: a little bit goes a long way.  Perhaps I should amend my statement to say I love tasteful yard art, but then, I also love some non-traditional, funky forms of yard art. After all, I do call myself a bohemian southern belle. Bohemian; not tacky.  Too much is tacky and you won't find the Naked Barbie Beach in my yard, but you will find it down the road in Turin, GA!
Some people are happy to let flora be their sole yard art. Some may allow a finely placed bench, statue, or fountain. Beautiful formal gardens or lush green lawns are nice. Many folks spend hours of work and/or big bucks to have a beautiful yard. I can also appreciate a pretty English or French flower garden, even though
they are deceptive. They look like someone just threw a few seeds out the window years ago and voila, every year there are profuse flowers. Looks can be deceiving – those pretty gardens in the home magazines take planning, digging, weeding, cultivating, money, and backbreaking work – definitely not my cup of tea.
My preference leans toward something a little more casual. I like flowers, but only perennials I can put in the ground and forget. I love the old fashioned
Rose of Sharon, quince, forsythia, daylilies, thrift, evening primrose, rosemary, thyme, and climbing roses, even though  I can't get them to grow like my granny and mother-in-love did. I have a few, and I spruce them up with store-bought and my own creations of yard art.
My bottle tree is a work in in progress. Nestled between real trees in a corner of the backyard near the treehouse,  I am slowly accumulating blue bottles
to fill its branches. Any bottle tree aficionado will tell you the very best bottle trees have only cobalt blue bottles; certainly no ubiquitous brown beer bottles or green wine bottles. I love the legend of the bottle tree –  that evil spirits are attracted to the pretty color, fly up into the bottle, and then can be trapped inside.
One of my favorite little yard art arrangements is a stone given to us some of our son Jay's friends. It was in place at the friend's wedding, where Jay was to have been the best man.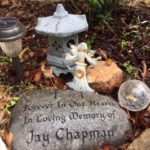 When Jay died just a week or so before that wedding, they commissioned the stone and had it there in his stead, then gave it to us as a special remembrance. One really neat thing is that when they took a picture with it at the wedding, an unexplainable bright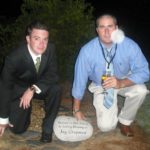 orb appears on the picture. Surely Jay was there in spirit.
I have also have the required St. Frances of Assisi statue, along with a birdbath, sundial, and armillary.  I tried my hand recently at glass sculpture, and I like the way it turned out. I also love fairy gardens and have one outdoor one in progress, as well as several indoor ones in containers. My "Oz" yard art needs some clean-up from the winter and spring storms.
It is often said that what constitutes art is in the eye of the beholder. That is especially true when we are talking about yard art! What kinds of yard art do you like? Share your ideas in a comment. Art, or not?