I am still a little frazzled, so please excuse any errors in this post. Also, it's a little longer than the average post, but nonetheless, it is an important story .
I have spent the last four weeks at one of my most favorite places on earth: Flagler Beach, Florida. My family has been visiting Flagler for close to 50 years. We have seen the area grow and change, but the natural, uncrowded beaches have retained their beauty and status as one of the most peaceful places I've ever experienced. Memories made in Flagler practically tell my life story. Family photos and stories abound of those no longer with us. The beauty inspires me to write, and several of my poems and essays have been composed right on that beach.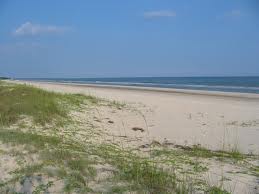 Since 2010, I have spent the month of May at Flagler, staying at Ocean Beach Club One condominiums (OCBI). I've made friends with some of the permanent residents, seen managers come and go, and developed friendships with other May visitors. I've had friends and family visit, my husband comes in between working, and the few alone days I have are treasured as peaceful escapes from the harsh realities of life. One of my favorite aspects about Flagler has always been that it is a dog-friendly beach. I've enjoyed watching owners and their dogs play in the water, chase birds and crabs, and I can have the company of my own pup right there with me.
Many of you know May is a hard month from me. May hosts my son Jay's birthday and his death-day, which lends a special poignancy to Mother's Day. Now I have another traumatic event to add. About two weeks ago, on May 25, what has always been halcyonic became hellish. I had been sitting in my beach chair under my umbrella, enjoying the beautiful day. I was alone for the first day since arriving in Flagler, having company, and sending Joe back to work in Atlanta. This photo of Jazz was taken just moments before horror broke loose.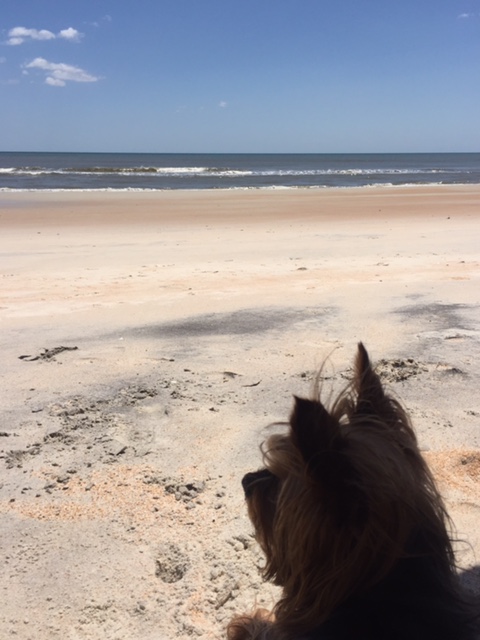 I was watching a young couple playing with their two dogs in the surf about 50 yards up the beach. Both dogs were big, Labrador sized. I couldn't tell from the distance if they were specific breeds, but one was light with dark markings and one was black. They were romping and splashing, letting go of their dog leashes on the shallow sandbar. One of the dogs would occasionally start to run off if other folks went by with a dog and the man would call him back. The dogs would come after a couple of commands. One of the friends I've made who also visits OCBI every May, Wendy, took a photo of the couple and their dogs to send back to relatives to show how shallow the sandbar is, then she went back up to her condo rental for lunch.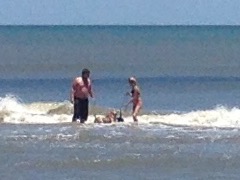 After a few minutes I got up to go down to the surf to cool off. I had Jazz on his leash beside me. As I reached the edge of the water, from the corner of my eye, movement caught my attention. The light colored dog was running towards us, fast as lightning, without his owner. Following several yards behind was the second dog. Either the owners had let go of the leashes or the dogs had pulled loose. We will probably never know, but I do know the owners had been letting go of the leashes as the dogs played. The owner was running and calling to the dogs too. In a flash the light dog was in front Jazz (my dog) and me. There was a brief second of growling between the two dogs and then the larger dog pounced on my baby. I was stunned and caught completely off guard. As I reached for Jazz, the other dog arrived. I could not pick Jazz up as the light colored dog had locked onto him. I fell onto the sand. I couldn't tell exactly where he had a hold, but it was somewhere in the head and neck area. I got to my knees, hitting the light dog with the handle of Jazz' leash. He wasn't letting go. I tried to pry the dog's mouth off, and was bitten in the process, but did not realize it at the time. By this time the dog owners arrived at the fracas and other beach goers came to my assistance. I was screaming, "Get him off! Get him off!"
I thought the big dog had Jazz by the neck. It was starting to sling Jazz back and forth. The black dog attempted to join the fray but was grabbed by the female owner. I was knocked down and being pulled around on the sand trying to save my baby. I was hearing shouts of "Oh my God!" "Someone help!" "Get them away!"
Finally the light dog released my baby, and I was later told that one of the men who had come to my assistance had taken ahold of the dog's collar and twisted it, effectively choking the dog so it had to let go. The male owner was saying, "I'm so sorry! I'm so sorry! Are you ok?"
I could only cry and hold my baby to me. Blood and sand were covering both of us. The male owner said to the female, "Get them away," referring to the dogs. He said again, "I'm so sorry."
Then he started to back away to where the female was walking the dogs away. At least two kind women and the man were saying to me, "You need to get your dog to the vet and yourself to a doctor."
I could barely catch my breath. But managed to say "Somebody get their info."
Other people were coming around by this time. I kept saying, "Somebody get their information! We need to know who they are!" One of the men took off after the couple with the dogs, as they were headed for their car in the beachside parking area.
I finally caught my breath enough to get up, cradling Jazz in my arms. I will never forget the wild look of terror in his eyes. I still couldn't tell from where he was bleeding, but he was conscious and alert, although trembling, so I did not think he'd been bitten in the neck, or he would be bleeding out rapidly. One of the ladies brought my towel and I wrapped him in it, still holding him close. I was afraid to uncover him or put him down because I did not know how bad the wounds were.
The men and women gathered my belongings, walked me back over to my condo so I could grab my purse, and called the police and animal control. I managed to at least get my cover-up on. One of the residents, Monique, pulled her car around to take us to the vet. I called the vet in the car on the way. Fortunately, I knew where it was because I had to take Jazz there a couple of years ago when he got sick. They still had our information on file!
Once we arrived at the vet, they took Jazz back immediately, still wrapped in the beach towel. I went into the bathroom to wash the blood and sand from my hands and that was when I discovered some of the blood was coming from wounds on my hands. I was still shaking and traumatized. After thoroughly washing my hands I could see there were two deep puncture wounds and several scrapes and scratches. I kept paper towels pressed to them to stop the bleeding. My left index finger, with the two deep wounds, was especially painful. I managed to call Joe, who had just gotten home from work back in Atlanta. He said he would get there as soon as he could, for me to get taken care of, do whatever was needed for Jazz, call him when I knew something, and he would start making arrangements to get there.
Monique called an acquaintance at the Sherriff's office and they had animal control come to the vet's office to talk to me. In the meantime, the residents back at the condo, Tom and Lisa, and Wendy, were talking with the police. Somehow, the animal control officer was informed that the owners of the dogs had been identified. (This later turned out to be misinformation.)  He did say I needed to get medical attention for my wounds and that he would be picking the dogs up later that day for quarantine and would know from the owners if they had been vaccinated for rabies so we would know if I needed treatment for that. He took my contact information and pictures of my hands. He also went back and took pictures of Jazz.
Finally, the vet came out and updated me on Jazz. He had wounds to his shoulder area and his rump. One eye was also reddened, she said probably from sand, but they found no corneal scratches or lacerations. The worst was his shoulder, apparently that's where the dog had ahold of him when I thought he had his neck. The vet explained they were deep lacerations that required a drain. They had sedated him, cleaned the wounds, put in stitches and the drain, and needed to watch him an hour or so, but he would not have to stay overnight. Of course, I was relieved it was not worse. They also said "You need to get yourself to a doctor." Monique, who had stayed at the vet with me, said she would take me.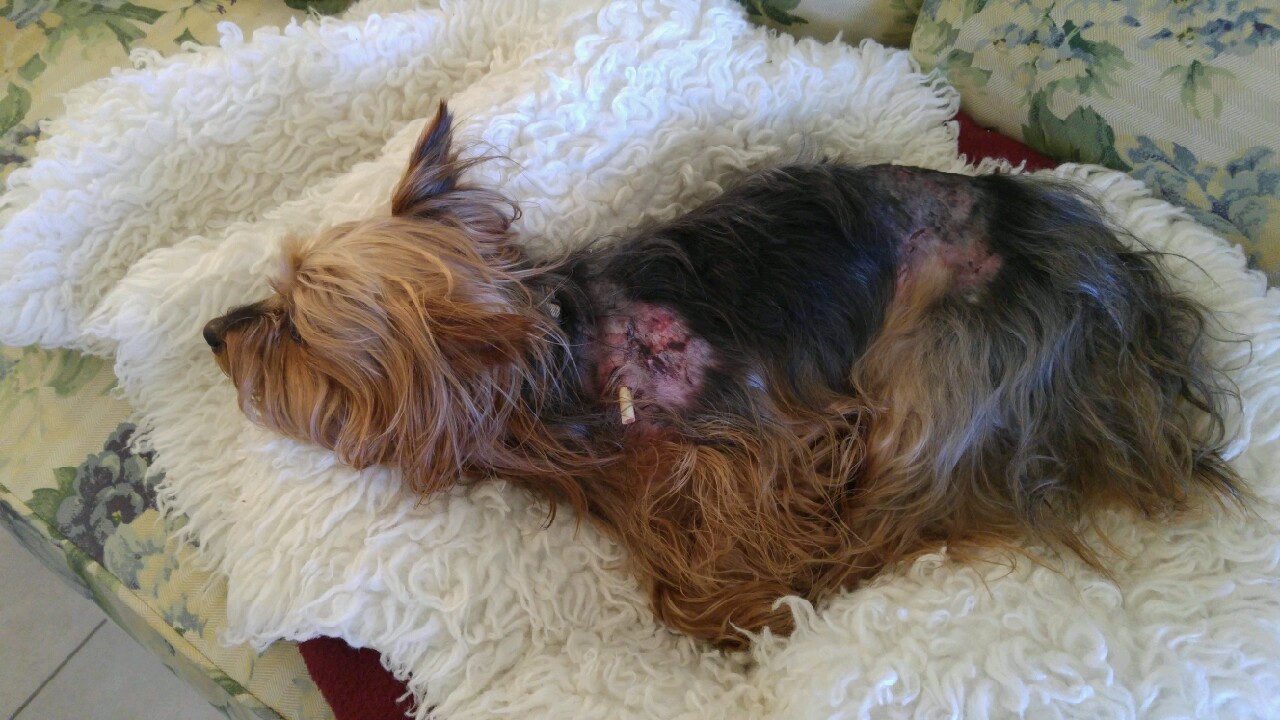 They referred us to a nearby urgent care center. Once again, Monique took me there and waited with me. The urgent care personnel and doctor were great. They took me right in. We weren't too concerned about starting rabies treatment since we thought the owners had been found, but they did give me a tetanus shot, and an antibiotic. The main concern was infection, especially since I am on immunosuppressant medications for my other medical conditions. I got my prescription and we headed back to the vet's.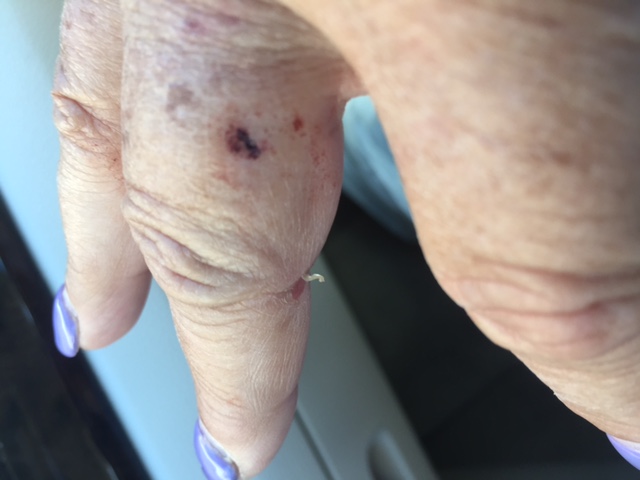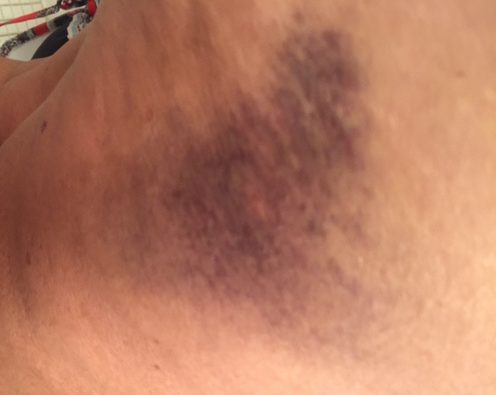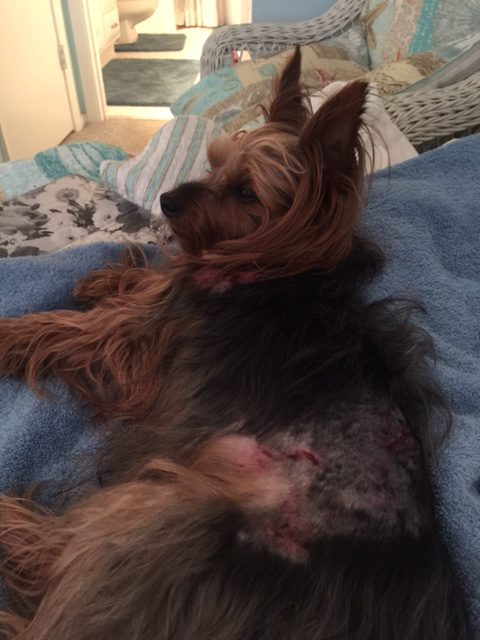 They brought Jazz out to me. Poor baby, he looked pitiful. Partly shaved, scratched up, and still lethargic from the sedatives. They gave me instructions for his medications and said to some back three days later for the drain to be removed from his shoulder. We left the vet and headed next to the drugstore for my prescription. They said it would be about 15 minutes. Monique left the car running with Jazz and me in the air conditioning while she went in – she said she needed a beer after this ordeal! She came back out with her six-pack, treats for Jazz, and my prescription. I could not thank her enough. She had taken the afternoon off work because she had relatives visiting and here she had spent hours carting me all around.
We finally arrived back at the condo. She walked me in and made sure I was ok. By this time I had heard from Joe. His boss had approved him being off the next day, and he hoped to make a flight that would arrive at 9 pm. He said not to worry about picking him up, he would rent a car if needed. I got Jazz settled on some pillows and got myself in the shower. A hot shower never felt so good!
I was waiting for confirmation that Joe had made the flight when there was a knock on my door. It was my friend Wendy. She had gone back to the beach after lunch and discovered not only were all of my things gone, but hers were too! She came up to the pool looking around and discovered the couple who had helped me, that were also residents, Lisa and Tom, talking with the police. Once she found out was had happened she shared the photo she had taken of the couple playing in the surf with the dogs. Now here she was checking on me.
A few minutes after she left, there was another knock at the door. It was Lisa. She had brought me dinner! I hadn't even realized I had not eaten. She told me how her husband Tom had twisted the light colored dog's collar, causing it to finally release its grip on Jazz. She also said he had run after the couple, but they had jumped in their car and sped away, nearly running him over. He wasn't able to get a photo but thought it was a white Toyota Camry, possibly 1998-2000 model, with FL tag BRU-5 something but he couldn't be sure. They had given all this info to the police. Again, I thanked her profusely.
I also had a visit from the police, explaining the info they had and leaving a report form if I wanted to file one. I told him we'd probably do that the next day. Then I got a message from the animal control officer, telling me he had been misinformed about the owners/dogs being identified. This was a blow because without locating the dogs and determining their inoculation status I would likely need rabies prevention therapy. He had notified the health department and they would be getting in touch with me. The awful stories of that treatment now loomed ahead of me, changing the entire scenario.
I finally heard from Joe that he had managed to make the flight arriving at 9 pm. I gathered Jazz up in a blanket and snuggled him in my lap as I drove the 25 miles to the airport and picked him up. Don't think I've ever been so glad to see him in my entire life!
I won't go into as much detail about the aftermath. I texted a few family and friends about what happened. I was pretty bruised up and sore the next day, but we made it to the police department and filed the report. My hands were swollen and that one finger hurt like hell. Jazz remained fairly pitiful, but we were giving him the sedatives and pain medication. He wasn't eating, and drank very little. We lifted him up and down and stood him by the tree outside our door to tinkle.
I got the picture from Wendy of the couple playing in the waves with their dogs. Then I joined a couple of local Facebook groups, posted the picture, and explained what happened, hoping beyond hope someone would recognize them. There were many comments from people expressing outrage at such irresponsible dog owners and also concern for Jazz and me. There was a ray of hope when a woman commented on the post that she was the woman on the beach with the black and white dog and she had been "so worried about me and my little dog." Of course I jumped right on that and notified the police, but it turned out she was not the dog owner but was one of the helpers! I was sorry for the misunderstanding but glad to find out who she was – another kind stranger I only knew as the woman in the polka dot swimsuit. Thank you Maggie for your help during this horrible ordeal. There was one other glimmer of hope when the police called and told me they had a lead. They had tracked the partial tag number to an address but it turned out the car owners no longer lived there. Another dead end.
Since this happened on a Thursday, I was out of it on Friday, then it was Memorial Day weekend, it was Tuesday before I could start trying to sort things out. I was in contact with the health department in both Flagler and my home county in Georgia. I spent the entire day on the phone with my primary care physician, both health departments, my insurance company, my rheumatologist, animal control, the police, and a couple of hospital emergency departments. It took forever to get definitive answers about what I needed to do. The final verdict was that I had up to ten days to start treatment, which I should do if the dogs weren't found in that time period. We were due to come home June 3, exactly 10 days after the incident. We decided to come home on Friday, a day early, so I could get to the emergency room earlier on Saturday, but during the previous Thursday night I came down with a violent stomach bug. No way could I travel on Friday with that going on.
Finally made it home, and got to Piedmont Newton Hospital Emergency room about 5:30 Saturday. They were wonderful too! Praise the Lord for knowledgeable medical professionals. Short version: No rabies treatment-WOOHOO!
Long version: Given that…
a. The dogs were obviously well cared for pets and therefore most likely inoculated
b. It's been 10 days and I have no symptoms
c. The dogs didn't actually attack me- they were after my dog                                                       d. I would have to stop my Humira treatments for RA to have the rabies treatment
e. The treatments are very painful and expensive
f. CDC protocols apply (as opposed to local health departments)
…the nurse practitioner said NOT necessary! I was of course relived beyond measure. Of course the owners are still scumbags for leaving the scene and us holding the bill for me and the vet. I also still can't help but believe that somebody in that area knows who these people are.
Jazz and I will both be ok and that's the important thing. We are ready to put this horrendous ordeal behind us.  I don't know if I can regain the peace and serenity of my beloved beach, but I shall try. Fred Rogers said in the midst of bad times, to find the good, look for the helpers- they are always there. Thank you Monique, Maggie, Wendy, Lisa and Tom for all you did. There are probably others who came to our aide on the beach of whom I am unaware, but thank you each and every one. Thank you to all my friends and family members who expressed concern and prayed for me and my precious pup Jazz. Thank you to the health professionals, the vet, the police, and the animal control department. Most of all,  thank you Jesus!