Oh my, where to begin?
The trip to Ireland was amazing. It is a beautiful country, and I learned so much. One is never too old to learn. It was a once in a lifetime literary experience, and I'm going to focus on that in this post. And to top it off – I got to celebrate my 64th birthday there!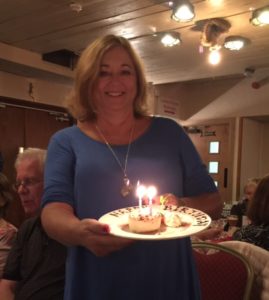 From James Joyce to Jonathan Swift to Oscar Wilde to W.B. Yeats, Ireland has a rich literary history. Oscar Wilde is immortalized in a statue in Merrion Square near his childhood home. The statue of the pregnant woman in the foreground is his wife, Constance.
"Women are meant to be loved,
not to be understood."
— "The Sphinx Without a Secret"
                                      Oscar Wilde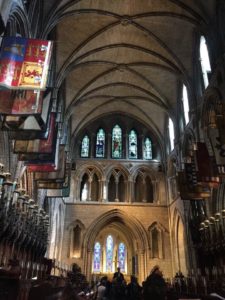 Jonathan Swift, author of Gulliver's Travels and numerous satirical works, lived in Dublin and is interred in St. Patrick's Cathedral, of which he was a major benefactor. St. Patrick's is the largest cathedral in Ireland. Impressive stained glass, vaulted ceilings, artifacts, and a history of surviving storms, fires, and being used as a stable, this magnificent cathedral is a must see for any visitor to Dublin.
Another Dublin literary experience was viewing the Book of Kells, considered Ireland's finest national treasure. Housed at Dublin's Trinity College, it is actually a manuscript collection of the four gospels written in Latin with calligraphy and astounding illuminations. It was created in a monastery around 800 AD. No photos are allowed of the actual manuscript.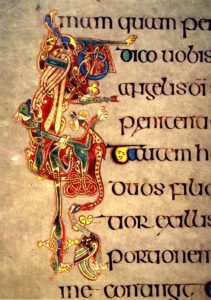 This photo is from bing™ with creative commons rights.
Trinity College is also home to the most impressive library I have ever seen. The "Long Room" main chamber of the Old Library, was built between 1712 and 1732 and houses 200,000 of the Library's oldest books. This is a research library, accessed only by library personnel. The hall is lined with busts and other artifacts. The library is a "copyright library" and receives, free of charge, a print copy of each book copyrighted in England and the Republic of Ireland.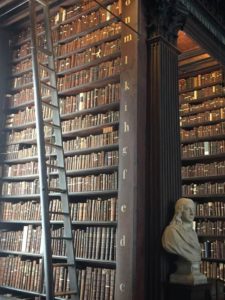 Across the country, just outside the city of Galway, is Kylemore Abby. Built as a private residence in the late 1800s, the Abby became a residence for Benedictine nuns in the 1920s, and later housed a girl's school. Although the school has closed, the Abby is still active and offers tours, cathedral services, gardens, shops, and dining. I couldn't resist taking this photo of the reading area in the drawing room.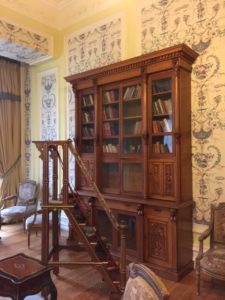 These are just a smattering of my Ireland experiences, and only the tip of the iceberg for literary excursions one could take advantage of in Ireland. There is much more to this amazing country, and it is one of those places one never has enough time to see and do everything one would like. GeorgiaJanet will be posting more about Ireland in the future and I may even make a return visit.
P.S. Don't forget Bram Stoker, Frank McCourt, Samuel Beckett, Anne Enright, CS Lewis, George Bernard Shaw, Kate O'Brien, Iris Murdoch and
Do you have a favorite Irish author, story, or witticism? Please share in a comment.