VIDEOS
Christmas in Dixie: https://www.youtube.com/watch?v=YDYfXlMR9QA
Atlanta Then and Now; Remember When?  https://www.youtube.com/watch?v=mm6Odh9RoLY
American Trilogy: Elvis' beautiful rendition with photos matched to the lyrics:  http://www.youtube.com/watch?v=9JXniwacDMA
---
MUSIC             
Jason Aldean My Kinda Party https://www.youtube.com/watch?v=isLqoB3v_wI
Allman Brothers Ramblin Man https://www.youtube.com/watch?v=LUXRjfHoVl4
Brook Benton Rainy Night in Georgia https://www.youtube.com/watch?v=yRKqfrct070
Lobo Me and You and a Dog Named Boo https://www.youtube.com/watch?v=hmZv5ND2YuI
Alison Krauss Oh Atlanta! https://www.youtube.com/watch?v=3hwiRsiJxfk
Zac Brown Band Highway 20 Ride https://www.youtube.com/watch?v=gZMCkufE0X0
Billy Joe Shaver Georgia On A Fast Train https://www.youtube.com/watch?v=GdYzVFClHyg
Shenandoah Moonlight Over Georgia https://www.youtube.com/watch?v=YCkJV9U1rLw
Buddy Jewell Sweet Southern Comfort https://www.youtube.com/watch?v=f0mBFiqv76I
Atlanta Rhythm Section Doraville https://www.youtube.com/watch?v=_7VVZQ_BYFE
Tracy Byrd Watermelon Crawl https://www.youtube.com/watch?v=joDqu8Gu70k
Loggins and Messina Back to Georgia https://www.youtube.com/watch?v=O6IbTLc5MeI
Oh, Atlanta: Bad Company: https://www.youtube.com/watch?v=tz-8_UsLNzM
Oh Atlanta: Little Feat: https://www.youtube.com/watch?v=ZwiaigzjM00
Hot'Lanta https://www.youtube.com/watch?v=FWSoo3bLhIc
ARS' Georgia Rhythm:   https://www.youtube.com/watch?v=3XqDVBBVX4I
Elvis' American Trilogy –  http://www.youtube.com/watch?v=9JXniwacDMA
Norman Luboff  Dixie: https://www.youtube.com/watch?v=LoPRA5SHIHU 
Otis! Sittin on the Dock of the Bay  https://www.youtube.com/watch?v=PyxLaHmOaYM
2. 01 - [Sittin' On] The Dock Of The Bay
Charlie Daniels:  Devil Went Down to Georgia:   https://www.youtube.com/watch?v=FgvfRSzmMoU
Lauren Alaina Georgia Peaches https://www.youtube.com/watch?v=qfWmFevHdQo
Ray Charles Georgia On My Mind https://www.youtube.com/watch?v=fRgWBN8yt_E
Willie Nelson 

3. Georgia On My Mind

 https://www.youtube.com/watch?v=FNlw0IDFKDA
4. Lynyrd Skynyrd

 Georgia Peaches https://www.youtube.com/watch?v=B34nwZS6fZo
Gladys Knight 
5. 04 - Midnight Train To Georgia (Album Version)
6. Midnight Train To Georgia

 https://www.youtube.com/watch?v=meaVNHch96o
The Candy Men: Georgia Pines https://www.youtube.com/watch?v=br6PerLu7lc
Duane Eddy Rebel Rouser https://www.youtube.com/watch?v=otaIZoW0dtg
 Joan Baez The Night They Drove Old Dixie Down https://www.youtube.com/watch?v=nnS9M03F-fA
Margaret Whiting My Own True Love (theme to Gone With The Wind)  https://www.youtube.com/watch?v=3o5L6yRXpbw
Did you know that Georgia on my Mind was NOT the original state song of Georgia? The original state song adopted in 1922 was Georgia. The words to this song were a poem written by Robert Loveman, who although not originally from Georgia, did spend most of his life in Dalton. The words were set to music written by Lollie Belle Wylie. You can read more about Lollie Belle on the Strong Southern Women page. Thanks to Pie CatLady for her comment about this Georgia song.  Here are the words to the original state song, Georgia. Thanks to Ole Georgia Boy for his comment and this link to a YouTube video clip. From what I can hear on the clip and looking at the sheet music image this sounds like it! 
Lyrics
From the mountains to the sea,
Where her rivers roll.
There I ever long to be,
O my heart; my soul;
By her meadows let me lie.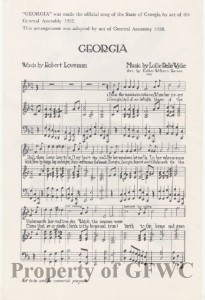 In her vales remain.
Underneath her roof-tree sky
Watch the shadows wane.
Georgia-land of our delight,
Haven of the blest,
Here by happy day and night,
Peace enthrones the breast.
Georgia, Georgia dearest earth
Underneath the blue,
Clime that ever giveth birth
To the brave and true.