Who is GeorgiaJanet?
About GeorgiaJanet…
I'm a bohemian southern belle, lover of all things southern, and proponent of strong women.  I wasn't born and raised in the briar patch, but pretty darn close to it. I lived my early years in Atlanta's West End, near the Wren's Nest, the home of the Joel Chandler Harris.
I've lived all my life in Atlanta and surrounding areas. Growing up in Atlanta in the 1950s and 60s could be wonderful, traumatic, exhilarating, and frightening. It was all of those things for me at some point or another. Those rich experiences are stories that are just waiting their coming resurrection.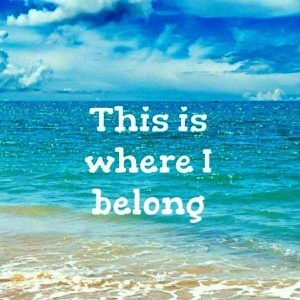 SUMMER: https://www.pinterest.com/georgiajanet/summer/  

BEACH: https://www.pinterest.com/georgiajanet/lifes-a-beach/
I'm a dog person, a summer person, and an outdoor person. Perhaps I should clarify that means relaxing in the outdoors, as in sitting in the sun at the beach, or the shade on my porch, or driving in my convertible, or enjoying beautiful scenery when traveling. You won't find me running marathons, hitting tennis balls, or mountain bike riding!
SUMMER TUNES
Lovin Spoonful Summer in the City – mellow https://www.youtube.com/watch?v=m648v4s5sFc
The Who Summertime Blues – rockin' it https://www.youtube.com/watch?v=kC4S13jcki4
Ella Fitagerald Summertime – classic https://www.youtube.com/watch?v=u2bigf337aU
Mungo Jerry Summertime Easy listening https://www.youtube.com/watch?v=wvUQcnfwUUM
The Jamies Summertime Summertime oldie https://www.youtube.com/watch?v=xeNAgBFmJpM

As a writer…among other things…
I have been a life-long writer. I have published material on infant education, preschool ministry, elementary education, and teacher education.  My  novel, Madam May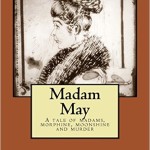 was published June 1, 2015. It is based on the life of my paternal grandmother.  She was quite a character and you can read about her on the Books page. My second book, This Teacher Talks, was  published April 2017. It's nothing like my first book. Read about it too on the Books page. I also write poetry and essays. Read them on the Writings page.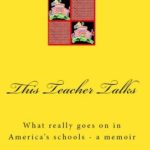 I have been blessed with several careers. The list ranges from children's party costume character, to caterer, to pediatric Physician's Assistant, to Preschool Minister, to Elementary Teacher, to University Professor, to curriculum writer, and that's just to name a few!
It is amazing what God and life in general bring your way. I have a dearly beloved husband, children, grandchildren, extended family and friends.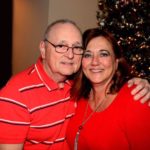 They have all played a part in the drama of my life.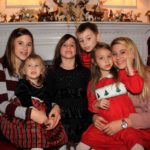 I have personal and physical challenges that have presented difficulties in my life at times, but my amazing family as well as friends and colleagues have seen me through.
Read about my angel son Jay on the JCMF page.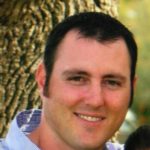 GeorgiaJanet  is a life-long learner and writer.
Writing has been a constant companion and my varied life experiences provide different perspectives that are reflected in my writing. In high school I was on the school newspaper staff. Our paper was the Rebelation and I had varying responsibilities including editor at one time. For more about my high school years, view this video: http://www.youtube.com/watch?v=37OE_T_Vdl8&feature=channel&list=UL.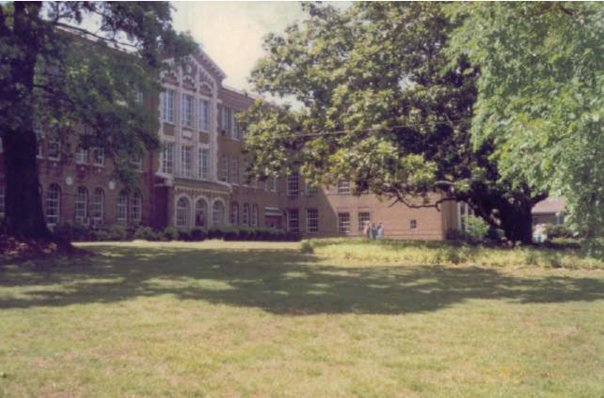 As a high school student correspondent to the Atlanta Journal newspaper I had two published articles. As it turned out, I would later find other connections to Atlanta newspapers. More on that below…
Atlanta Newspapers and Georgia Janet 
 When I was about eight years old there was a "fun page" in the Atlanta papers on Saturdays, which was a combined edition of the Constitution and the Journal. There was a maze I tried to work and could not do it. I got my brother-in-law, an adult, to try it and he said it couldn't be worked. I wrote a letter to the cartoonist, Eric, (actually Lou Erikson, but he signed his cartoons and art as 'Eric') who was the political cartoonist at the paper at that time. A few days later I received a letter addressed to me. Inside was the same sheet on which I had written my letter. Mr. Erickson had drawn an illustration all around my writing showing a skeleton in a desert. (The original maze was called desert crossing and had a desert motif.) The skeleton was holding a sign that said, "Sorry Janet, No Desert Crossing!" I still have that letter to this day.
In high school, I was on the newspaper staff two years. At that time the Atlanta newspapers had what was called a "Teen Board" made up of high school journalists. We toured the newspaper offices at their old location on Marietta Street. I had the honor of meeting the renowned newspaperman Ralph McGill. I also submitted two articles that were published: one on the history and myths of Joseph E. Brown High School (my school), and the other a feature article about shoe fashions. A photographer came out to the school and took pictures of shoes (with feet in them!) This article ran on the front page of the Saturday feature section.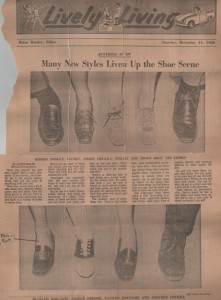 For some reason, the shoes that I called "loafers" in my writing were edited by someone at the paper to be "moccasins." I still don't understand that – nobody called them moccasins! I have the shoe article but have been unable to find the article about the school.
There have been a few other newspaper connections in my life – my daddy was written up a couple of times. Once was for successfully rescuing a person from a burning car and another  time for an unsuccessful attempt to rescue a person from a burning car.
My Granny, the infamous Madam May, was broken in on, beaten up, and robbed, and that was in the paper. She had some other very interesting events chronicled in the paper in the early 1900s, but that is part of her story, Madam May! My life has been peppered with random connections to the Atlanta newspapers, some that are especially convoluted.

Convoluted Connection
There is an intricate story involving history, genealogy, and my connection to Atlanta newspapers.
My gggg grandfather Evan Howell (1781-1868), founder of Duluth, Georgia, married Mary Elliott, and they had a son named Clark Howell (1811-1882). Mary died and Evan remarried. Clark became half brother to my ggg grandfather, Hampton Wade Howell (1821-1892), who had a different mother (Harriett Hines Owens.) Then Clark Howell had a son named Evan Park Howell (1839-1905). Evan Park Howell (more on him below) bought controlling interest in the Atlanta Constitution in 1876. He, along with his assistant editor Henry Grady, hired Joel Chandler Harris, who had fled Savannah with his family due to a malaria epidemic. Evan Park Howell died in 1905, and his son Clark Howell (1863-1936) took over. He remained owner of the Atlanta Constitution until his death in 1936. So, the last Howell owner of the Constitution's great grandfather and my own gggg grandfather are one and the same! To further confuse the matter, I also had a gg grandfather (the son of Hampton Wade Howell) who was named Clark F. Howell after his half-uncle.
Now the story gets even more convoluted. I am actually ALSO related to Joel Chandler Harris, and he was closely tied to the Atlanta papers. Evan Park Howell was instrumental in bringing him to Atlanta. Joel Chandler Harris and I are 5th cousins 5 times removed.  Harris's gggg grandfather, Robert Chandler (1659-1710) is one and the same as my 9th great grandfather,  Robert Chandler, who had two sons, Joseph and Joel. My descendency is from Joseph, while the well- known J.C. Harris' is from Joel. This has nothing to do with the Howell line, yet Harriw and Howell ended up as colleagues and friends. Howell was from my mother's maternal line of Park + Howell + Smith + Lord. The Chandler connection is from my mother's paternal line of Lord + Chandler.
Even more serendipitous, Evan P. Howell lived in West End, Joel Chandler Harris lived in West End, and I lived in West End. Harris' former home, the Wren's Nest, still stands. It is a museum and home of the Joel Chandler Harris Association. While in elementary school, I participated in May Day dance festivals on the outdoor stage in the back yard of the Wren's nest. We lived in West End until I was in second grade. Even after moving out to Venetian, we continued to go to West End often. Joseph E. Brown High School was in West End, and my church, West End Baptist, just a block or so from the school, was next door to the Wren's Nest!!! There'll be more to come about West End in other stories. Nowadays, West End is called THE West End, but us original West Enders will always know it as just 'West End.'
Another connection is that a large portion of research for my novel Madam May was through the Atlanta newspaper archives. Her arrest record and murder trial were documented there and the picture on the cover is right off the front page!
Enjoy these videos on youtube. They will show you much more about GeorgiaJanet:
Family Veteran's Salute: http://www.youtube.com/watch?v=CYNyOYCAp1I&feature=g-upl
Christmas Through the Years: http://www.youtube.com/watch?v=D9EFOrwZb3c
Easter Through the Years: http://www.youtube.com/watch?v=llPVHLa4vNA
Nice video of Atlanta then and now….https://www.youtube.com/watch?v=mm6Odh9RoLY
Writing truly does run in the family!
These next three are my granddaughters reading their work and showing the dioramas they made and photographed for illustrations. The original PowerPoint and literary work won local, state, and international  media awards for their age groups.
There's A Monster In My Closet  http://www.youtube.com/watch?v=XlDi0k6OhB4
BigFoot Wendy  http://www.youtube.com/watch?v=cv3ywT00Z3g
Olivia the Frog  http://www.youtube.com/watch?v=GLXNhmCxmGI