This post was originally published as a guest post on The Front Porch. A couple of posts ago I discussed traditional southern belles here and mentioned there would be a follow up. Here it is!
Calling All Bohemian Southern Belles
AUGUST 13, 2017 / BIENVENUEPRESSBLOG
Guest blogger Janet Hogan Chapman stops by the front porch today. Grab a cup of coffee and enjoy reading about the bohemian southern belle.
What is a bohemian southern belle? The adjective bohemian is often used to describe someone who chooses to live life unconventionally.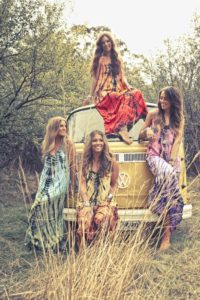 Can one be bohemian and a southern belle at the same time? Yes! She is a woman who maintains positive qualities of southern belle-dom such as manners, grace, charm, and kindness, but goes beyond to portray what some may consider unconventional traits for a southern belle. She is bold but minds her manners. She is outspoken where justice is at stake, but remains kind. She is charming, but not insipidly stupid. She is intelligent, but not just in book learning. She is wise in ways that cannot be learned from books. She has emotional and relational skills that could parry with the highest diplomat. She does not connive to belittle other women or reign over them. She does defend, encourage, and come their aid if needed. That aid could be as simple as a traditional casserole in a time of crisis or as complex as legal proceedings, financial independence, or medical assistance.
The bohemian southern belle can be devastatingly lethal if the situation calls for it. Just try harming someone she loves and you will find out just how quickly you can be put in your place. She will not be the one blessing your heart to your face then gossiping about you behind your back. She will be the one telling you straight up where you went wrong. She will teach you a lesson you will never, ever, forget, and she will do so publicly and in no uncertain terms. And she will be applauded for doing so, because others respect her conviction and passion for honesty and doing the right thing.
Do such women actually exist? I have been looking for them. I strive to be one of them! So far, the most quintessential bohemian southern belle I have found is fictional. Julia Sugarbaker, the character portrayed by Dixie Carter on the defunct television show Designing Women, fits the bill.
There are a few other  fictional ones that come close: Sally Field as M'Lynn Eatenton in Steel Magnolias, Ellen Burstyn as Vivi in Divine Secrets of the YaYa Sisterhood, Elizabeth Taylor as Maggie in Cat on a Hot Tin Roof.
It is much harder to find bohemian southern belles in real life. Perhaps Dolly Parton. Or Lauretta Hannon, author of The Cracker Queen. A woman I knew that has passed on, Marcie Creech.  A teacher I had, Clare Isanhour. Several dear friends who shall remain unnamed. As for me, I shall keep striving to be all that is good about southern belles, bohemians, and strong women. Together we can empower women, not just southern women, but all women, to be strong.
Do you believe bohemian southern belles exist? Do you know any? Do you consider yourself to be one? I would love to hear your thoughts.