WORK IN PROGRESS
Who is Dorothy May?                                          

Dorothy May is my work in progress. Not an actual sequel to Madam May, it picks up in the early 1930s.  Dorothy is a fascinating mystery!   All Daddy e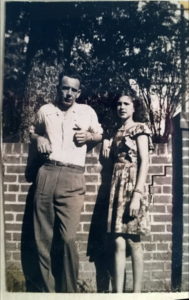 ver said was he took his mama to a house in Atlanta, and she came out with a baby. All we knew for a long time was that Dorothy married and had two boys who were eventually taken by the state and adopted out. At one time, long after my Daddy's death, a gentleman searching for his birth mother, came across the Hogan name, and contacted my mother. She knew nothing about Dorothy's whereabouts or if she was still living. She did send him some old photos of Dorothy that were in my daddy's things. Unfortunately, there is no record of the address where they were sent or the name of the man who inquired. My mother passed in 2000, and whatever she knew went to her grave with her. 
 Eventually I found a death record in Florida for Dorothy Cobb Mitchell Williams, so she has passed on. Through further investigation I found that she actually had four sons! The first was adopted and raised by a family in Forsyth County GA. She left Atlanta sometime in the mid-fifties and took the second with her, eventually landing in New Orleans, where he was placed in a Catholic boys' school. She took up with a man involved in the crime world in New Orleans,and he was later was killed. She had another child, father unknown, a boy, who was given up for adoption at birth in 1962. He was raised in Florida. This was the man who contacted my mother.  My high school diary states  that in 1970 Dorothy appeared at our house in Atlanta and had another child, a boy, with her. It's a very long story, but Dorothy had left New Orleans and ended up in Dothan Alabama, where she took up with a Mr. Williams, a one-armed man! I promise you can't make this stuff up!!!!!  She claimed Mr. Williams was the father of the little boy, born in 1965. It took a while, but I found him – living in Florida.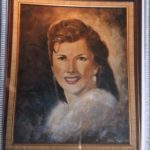 He is 53 years old, and Dorothy's only surviving child. We have visited and filled in some of the blanks, but many mysteries remain.
The others were able to reunite with their mother before she died in 1997. This portrait of Dorothy was provided by her only living child. As you can see, this is another book just begging to be written!!!! I am making steady progress and will hopefully have it published summer of 2018.
 Available on Amazon:
 
What if a child you knew or loved begged to not be made to go back in their classroom?
Find out what happened in…
This Teacher Talks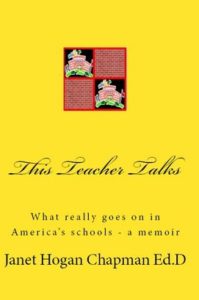 This memoir gives an account of the culture and events among teachers and administrators in a suburban elementary school. It is organized in three parts. The first is anecdotal background about educational experiences that influenced the author's later philosophy as an educator and details the journey that led her to this school.
The second part began as an academic research exercise for the author's doctoral dissertation. Actual journal entries for a complete school year describe tumultuous events, relating the day to day experiences among the adults in the school and how those experiences affect them as well as their ability to teach the students. This is where you learn the raw truth about what really goes on in some                                                            of America's schools, for the culture at this school is surely                                                            not unique.
The third and final part looks at how and why such school cultures could be transformed, and why that would be a tremendous improvement in an era where so many teachers leave the profession within their first five years of employment. It proposes a model for overcoming detrimental climates among the adults in schools. In doing so, it offers hope for the floundering and frustrated souls in America's public schools.
---


Madam May
 Who Is Madam May?    
 Madam May is the title character in a novel by Georgia Janet. She was a mother and grandmother, and most likely was a madam, moonshiner, morphine addict and murderer. Willie May Wheeler left rural Georgia in 1898 and came to Atlanta as a young bride, albeit in a contrived marriage. She was determined to escape her hardscrabble country life and become an independent woman, not an easy feat in that day and time. She was willing to do whatever it took to accomplish her goal. Once in the city she was embroiled in bigamy, blackmail, prostitution, and murder. Although she appeared to settle down later in life, she remained eccentric. I know her story intimately, except for the mysteries that followed her to the grave.  But I won't give up on those – because Willie May Wheeler Collis Stamper Hogan Cobb was my grandmother!  Many of you have asked about a sequel. May's life was filled with more secrets. I have started working on one of the more fascinating mysteries. Scroll down to the works in progress section. BUT…if you haven't read Madam May you will want to do that first!



5-Star REVIEWS 
 Fascinating story – great story-telling! I loved the historical detail, and I loved May, who, in spite of her dubious character (or maybe even because of it!) held my interest all the way. I couldn't wait to see what May's next scheme would be or how she would finagle her way out of the trouble she kept getting into with the law.
---
Epilogue 
I can still see her sitting there, looking out that picture window on the side of her house. Cheek stuffed full, black hair streaked with gray. If I dared to climb up on her wall and walk the wide top row of brick, she'd beat on that window and raise her fist. When she fell that Christmas Eve, none of us were home, right next door. Going into our house in the freezing cold, late that night, there were no lights on at Granny's. Waiting for Daddy to get our door open, we heard the faint voice calling,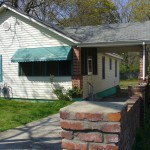 "Help! Jimmy? Help!"
We were hustled inside and Daddy ran next door. She didn't live much longer after that. Several weeks in the hospital at Fort Benning in Columbus GA,  back home, another fall, back in the hospital and finally a few days in a nursing home, then she was gone. As far as we knew at that time, Willie May Wheeler Hogan Cobb died on August 14th, 1963 at the age of 84, and took her secrets to the grave with her.
It took nearly fifty years for those secrets to work their way out of the ground, but work their way they did. When I began researching my genealogy, the secrets were slowly revealed. Did my Daddy or Mother know but never tell? That remains a mystery, as both have been gone now for many years. There are other unsolved mysteries as well, one of which is my half sister, Annie Jean. I never knew or met her. By the time I knew to look for her, she had passed away. I suspect my Granny and my Mother both discouraged any contact with her or her mother, Bettie Lou. It's sad now to think I had a half sister I never knew. Attempts to contact her adult children have been unsuccessful.
Who would have thought that over a hundred years later, Willie May's secrets would be recovered from the grave? Perhaps in another 100 years the remaining mysteries will be solved.  All in all it serves to demonstrate the past is never truly dead and buried.
---

---
Future Works

Mama May: The chronological sequel to Madam May covering the time period from immediately after the murder trial to her final marriage in 1930.
Memoir: Collecting notes and research for a reflection on life in Atlanta in the 1960s. It will address civil rights issues, race, desegregation, white flight, and the response of churches. Untitled.
Memoir: My life journey. How God has closed doors, opened doors, and led me through good and bad times. Untitled.
Collection: A collection of my poems and essays in printed format. Untitled.
Another family history saga: Only in the "thinking about" stage, I want to write about a great grandfather who drowned himself in the Kentucky River as a result of going insane after he was shot by a neighbor over pigs getting in his cornfield! Untitled.